Kitchen & Furniture Spraying
Give your existing kitchen cabinets a fresh look at a fraction of the price of a new kitchen.
Reviving Your Old Kitchen
With our professional kitchen spraying service there is no need for you to replace your kitchen cupboards and doors. We can save you a lot of money by simply respraying your kitchen cabinets and fixtures.
We use professional high quality paints and coatings, which are highly durable and scratch resistant. These hard waring paints are available in a huge range of different colours to suit your own personal taste. We have a range of matt, satin and gloss colours for you to choose from, if you find a RAL Code that you like, we can match it. We can spray in any colour including popular heritage and national trust colours also including popular farrow and ball colours.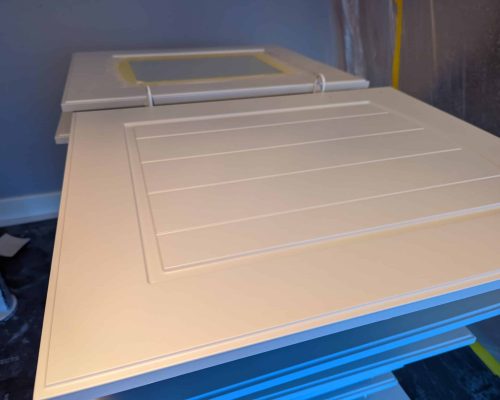 In order for us to achieve the cleanest, smoothest and most professional look to your kitchen we always remove the doors and drawer fronts ready for spraying.
These are then thoroughly cleaned to remove all dirt, grease and general kitchen grime in order for the new colour coating to correctly adhere to the surface of your kitchen doors and drawers when they are being sprayed.
The surrounding areas of your kitchen are masked off where new colour isn't required, this protects your floor, walls, ceiling and worktops from overspray when we recolour your cabinet carcasses and feature panels.
Doors Sprayed Separate To The Carcasses.
Once we have removed your kitchen cabinet doors and drawer fronts prior to spraying they are taken away.
The doors and drawer fronts are then sprayed in a clean dust free environment to ensure a totally smooth professional finish when the paints are being applied.
Once sprayed, we bring them back to your property and reinstall them for you.
Some items we can Spray Paint
One of our most popular interior spraying services is Wardrobe Spraying. If you are redecorating your bedroom or any other room inside your home and changing the colour, the traditional option regarding fitted wardrobes has always been to buy new doors to match your new colour scheme. This could prove quite expensive, especially if you have a large fitted wardrobe and matching fitted furniture in your bedroom. 
Luckily we offer a much more cost effective alternative with our professional fitted wardrobe and fitted furniture spraying services.
With our fitted wardrobe and furniture spraying service our customers not only get a high quality and professional colour finish they also save substantial amounts of money compared to fully replacing the wardrobe doors, frames and drawer fronts.